Full Service Maintenance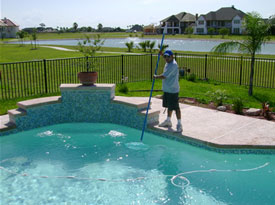 We offer customers a weekly maintenance plan to keep their pool in top condition year round. Our customers enjoy the convenience of having our maintenance personnel provide all equipment, supplies, and chemicals so they don't have to store anything on their property. Our customers receive professional service every week throughout the year. It is our goal to provide our customers with affordable, professional service, superior to all others.



Oasis pools will perform these services for every weekly service call:
Test the water for chlorine, PH, Acid demand, and total alxalinity
Treat water with necessary chemicals to ensure sanitation and proper balance
Brush the pool walls and floor
Skim the pool surface
Clean the skimmer and pump baskets
Clean pool sweep bag, filters and screens
Vacuum pool as needed
Backwash and clean the filters system
Pool and spa equipment will be activated and checked for accuracy
Wash down the deck as needed


Oasis Pools will supply all the necessary chemicals for the services outlined. Specialty chemicals such as conditioner and algaecide may be added at an additional charge to provide optimum filtration of your pool and spa water, we recommend that you run your equipment from 6 to 8 hours during the winter months and 8 to 10 hours during the summer months. Also, we recommend that the water level be maintained to the middle of the perimeter tile or skimmer entry.